DONATED TO BREAST CANCER RESEARCH SINCE 1996!
The RITA (Research Is The Answer) Foundation, Inc. is a Jacksonville based volunteer non profit organization. Our mission is to raise awareness and money to help in the fight against all cancers, with emphasis on breast cancer. These may include clinical research, basic research, education, awareness, and patient related breast cancer programs. We will generate revenue through special fund raising events; donate all net proceeds as unrestricted grants; operate with no salary expense or overhead expenses. All funds will be donated to 501(c)(3) programs in the greater Jacksonville, Florida area.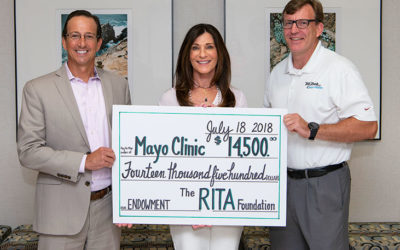 Phil Greer, Sherill Herzfeld, and Stephen Aten from Tom Bush The Mixed RITA event, co-founded by Sherill and Gary Herzfeld in 2017, had net proceeds of $ 33,500.00 in their second year. On July 18, the Mayo Clinic Jacksonville received $ 14,500.00 which was...
read more